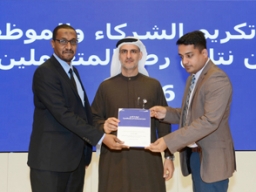 DriveDubai is one  the UAE's largest and most successful driving institute, bagged the 'Most Improved Institute of 2016 (Service Provider)' award by Road & Transport Authority (RTA) in the driving schools sector. 
The award is an analytic of DriveDubai's constant efforts to meet customer's satisfaction & happiness ratings.
The 'Certificate of Appreciation' was presented to DriveDubai by Ahmad Hashim Behroozian, CEO of RTA's Licensing Agency at an award ceremony.
RTA has honoured its service providers with a view to boosting the communication & cooperation between stakeholders, and encouraging them to achieve the best results in maintaining safety, imparting quality training, and supporting the strategic goals of the RTA.