Our Vision
To be the benchmark of professional competence in driver training and a strong stimulus to the UAE's campaign to promote safe driving, by creating a generation of skilled, alert and professionally trained drivers who diligently adhere to safe driving norms and traffic rules
Our Mission
DriveDubai Driving Center will leverage proven efficient training systems and management expertise to provide driver training of the highest standards and to help acquaint learner drivers with safe driving techniques and instill in them the right attitudes towards road safety and safe driving.
Our Facilities
Quick and Efficient Pick up and Drop off Facilities can be availed by students who take their classes at the Head Office to various parts of Dubai. Green community Dubai Investment park 1 Dubai investment park 2 Ibn battuta Mall Jebel Ali
Read more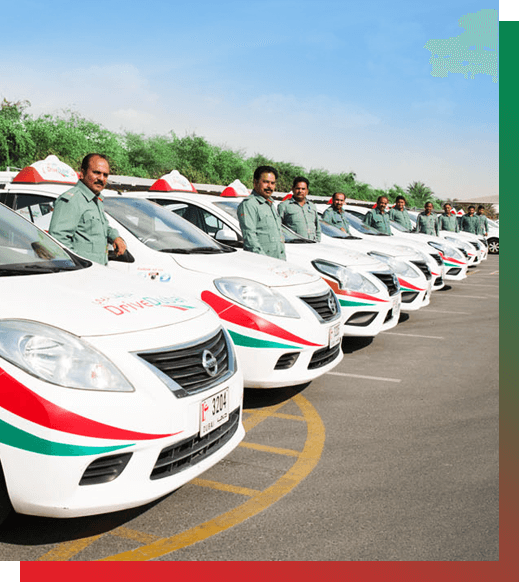 Company Profile
DriveDubai, one of the largest driving centers in the New Dubai area, held its Grand Opening ceremony on 12/12/12, which was inaugurated by Mr. Hussain Ali Al Saffar, Director, Drivers Training and Qualification, RTA, Dr Ahmed Saif Belhasa, Chairman, Belhasa International Group of Companies, Mr. Saif Ahmed Belhasa, Chairman, Saif Belhasa Group of Companies, Mr. Khalid Bin Kalban, Managing Director and CEO of Dubai Investments and Chairman of Masharie LLC, Eng. Saed Al Awadi, Chairman, DriveDubai, Mr. Amer Ahmed Belhasa, Vice Chairman, DriveDubai, Mr. Khalid Al Jarwan, General Manager, Masharie LLC and Mr. Omar Al Mesmar, General Manager, Dubai Investments Park The event was attended by senior officials from Dubai Investments, Masharie, Belhasa International Group of Companies, Saif Belhasa Group and RTA. Located in DIP –2, Drive Dubai is a partnership between Dubai Investments (through its private equity arm Masharie LLC), Belhasa International Group of Companies and Saif Belhasa Group."
Spread over 850,000 sq. ft., DriveDubai is a complete institute with A -Z facilities ranging from eye tests to RTA file opening & testing on-site to license issuance. With an experienced management team, instructors and service personnel through its associate company Drive Dubai, Drive Dubai brings over 20 years of driver training experience coupled with comprehensive facilities that are of the highest quality.
An easy-to-access location and student transportation facilities make it ideal for aspiring drivers staying in locations such as Jebel Ali, Motor City, Sports City, IMPZ, Arabian Ranches, all the way up to International City, to register with DriveDubai.It is the only driving center in the Dubai Investments Park to offer 'one-stop-shop' training facilities to students for all categories of vehicles such as Light Motor Vehicle –Car (Manual/Automatic), Heavy Bus, Heavy Truck, Heavy & Light Forklifts and Motorcycle.
Khalid Bin Kalban, Managing Director and CEO of Dubai Investments and Chairman of Masharie LLC, said, "Dubai Investments, through its private equity investment arm, Masharie, anticipated the need to develop a driving school at Dubai Investments Park, for the benefit of the residents of the integrated community and neighbouring areas. Towards this end, we forged a partnership with Belhasa International Group of Companies and Saif Belhasa Group to leverage their expertise in this sector to position DriveDubai as one of the leading training centers in Dubai at an accelerated pace. The investment is part of Masharie's strategy to diversify into distinct business sectors. We are confident that the venture will be extremely profitable within a short period of time."
Mr. Amer Ahmed Belhasa, Vice Chairman of DriveDubai added, "We have reiterated our commitment, through this strategic partnership, to establish a new generation of skilled & safe drivers by providing professional training and facilities that are of the highest quality. We look forward to engaging ourselves with the various communities & organizations of New Dubai to share DriveDubai's vision of safe and accident-free driving."
Mr. Ahmed Yousef, Manager, Drive Dubai said, "We are proud to be a part of the DIP community and we welcome every member of this community to DriveDubai, to play an integral part in our mission to promote safe driving and to shape a generation of skilled drivers."
Awards & Achievements
Honors, Awards, and Achievements